Who am I?
I am Zlatica Tušková, founder of luxury Slovak brand barefoot shoes ZlaTush.
How did my brand name come about? These are the first three letters of my name and surname. And since many of my customers are from English-speaking countries, I used "sh" instead of the Slovak "š".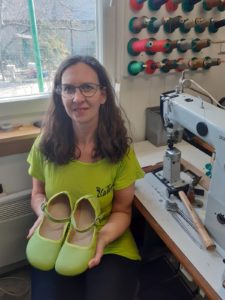 Why luxury?
Because these are hand sewn barefoot shoes. I do all my shoes with love, I put positive energy in them to wear them well.
You don't just buy ordinary shoes, you also buy a lot of hours to make them – everything I do by hand and myself – from shoe design, cut making, stencil making, choosing the right material, carving parts, assembling parts, sewing (on sewing machines), hoisting, gluing soles, grinding, checking…
In addition, I myself manage my website, both FB and IG profiles, I myself buy the material necessary for production, personally communicate with customers – mostly at night, when my children are asleep 🙂
Your shoes hide not only the hours needed to sew them, but also hours spent thinking and choosing the right material, over the design of the fit that fits perfectly on your feet, the amount of hours spent learning, perfecting production technology…
You can simply put my energy that I put into each pair of shoes and carry it proudly with you on your journeys. Knowing that you are wearing something unique, something that no one else has, because they are made with love only for you, only on your feet and to your liking. Why? Because you have the unique opportunity to fold your shoes.
How did I get to barefoot shoes and sewing?
At the very beginning, I was a self-taught shoemaker – everything I could sew, I learned myself with using literature, Internet, and the trial-and-error method (especially in my early days).
Since in time my hobby became my job, which I enjoy and fulfill enormously, I decided to invest in my further education.
⦁ In May 2018 I attended a weekend course with the famous Czech shoemaker Mr. Švienty, who initiated me behind the scenes of his amazing work, for which I am extremely grateful to him.
⦁ In June 2018 I attended a shoe course at the Secondary School in Zlín, which I successfully completed with a qualification examination in the field – "Shoe for custom and mass production"
⦁ After the graduation I was admitted to the exam to obtain an apprenticeship certificate accredited by the Ministry of Education of the Czech Republic in the field of "Shoemaker" which I successfully passed with the benefit – "passed with distinction".
I got to the barefoot shoes thanks to my youngest son when I started picking his first shoes. At that time, the choice of shoes that fit my ideas of healthy footwear was very limited. It was very difficult to find well-fitting droppers and later shoes that would not distort his legs, which would allow them to develop naturally, helped strengthen his muscles. One day I told myself that I would try to sew it on my own. I knew it wouldn't be easy, but all the more it tempted me to try. There were hours of thinking, reading, studying, looking for instructions, suitable material and aids, testing the cuts, fine-tuning them until they finally sat down. I had to figure everything out myself, because there was no one to help me, to give advice. When I figured out how to construct a well-fitting cut, there were hours of hand sewing with a needle and a punch. With the first successful attempt came the second, third, fourth… and my child was chattering happily in my shoes and I was extremely proud of myself that I could make it.
My baby became a major shoe tester. Later, my older sons joined me, as did my extended family and friends.
For 3 years we tested the shoes I made, we tested how much material lasts, how many soles, shoe glue lasts… During that time I also improved the cuts and production technology to make my barefoot shoes (as I call them) as perfect as possible the most.
And now I can proudly say that they can withstand a lot. Of course, with proper care, as the leather is a living material and requires regular care.
If you take care of it with love, it will reward you with a long life.